I LOVE children's books, but espe­cially so at Christ­mas! In fact, we love doing a Christ­mas book advent "cal­en­dar" of sorts! So, I'm so excited that Anna from Learn Like A Mom is back shar­ing a won­der­ful Christ­mas book roundup!
Can you believe it's Decem­ber already and 2014 is just around the cor­ner? What?!? I know…I can't believe it either. I swear the older I get the faster time goes by. I know I'm not alone here. We're all short on time, and dur­ing the hol­i­days, cal­en­dars get filled so quickly! So…to help, I've put together a list of ten books about Christ­mas. There is also a list of ten Santa books on my blog. This way, you can just reserve them at the library or pur­chase them now and you won't be wast­ing time search­ing when you want to be read­ing Christ­mas books with your chil­dren this month!
Ten Books About Christmas
This list is in no par­tic­u­lar order and this post con­tains affil­i­ate links.
Where is Baby's Christ­mas Present? by Karen Katz
Baby is look­ing for the Christ­mas present! Will Baby ever find it? Young read­ers should enjoy this lift-the-flap book as they help Baby look for that present behind all sorts of items. Read­ers can also dis­cover and count var­i­ous hol­i­day items through­out the board book.

If You Take a Mouse to the Movies by Laura Numeroff and Illus­trated by Feli­cia Bond
Mouse wants to go to the movies. Then he wants pop­corn. Then he wants string for the pop­corn. The next thing you know, Mouse has his friend ful­fill­ing all sorts of Christ­mas requests on their snowy walk home and in the warmth of the house. Will Mouse ever be satisfied?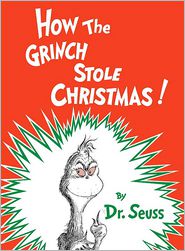 How the Grinch Stole Christ­mas! by Dr. Seuss
The Grinch does not like the Spirit of Christ­mas down in Who-ville. So, what does he do? He tries to stop Christ­mas in every way imag­in­able. Will he be suc­cess­ful? How will the Whos han­dle his repeated attempts to steal Christ­mas away from them?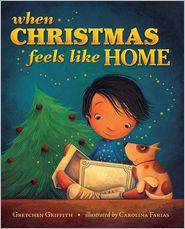 When Christ­mas Feels Like Home by Gretchen Grif­fith and Illus­trated by Car­olina Farias
Eduardo's fam­ily moves and there's one item Eduardo moves with care. It is The Nativ­ity, or El Nacimiento, that he had made with his grand­fa­ther. He is eager to open it and make the new house feel like home, but each time he asks, he's reminded by his fam­ily that it's not quite time for the Nativ­ity. Eduardo makes friends regard­less of lan­guage bar­ri­ers and slowly but surely set­tles in his new house. But even with foot­ball, fút­bol, and the chang­ing of the sea­sons, will Eduardo ever feel at home there? When will he be allowed to dis­play The Nativ­ity? This book is the newest one on the list and was just released this year.
I Love Christ­mas by Anna Walker
A book geared toward early read­ers, the text is very sim­ple. Ollie loves Christ­mas! What about Christ­mas is there not to love? But, there's one thing Ollie loves the most. I won­der what it is?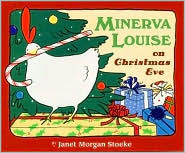 Min­erva Louise on Christ­mas Eveby Janet Mor­gan Stoeke
Min­erva Louise can't fig­ure out what is going on! But she sure thinks she can. She greets the rein­deer before fol­low­ing Santa around in the house. She just can't believe how he's mak­ing him­self at home! Will a present of her very own make her a happy lit­tle hen?
I'll Be Home For Christ­mas by Holly Hobbie
From the Toot & Pud­dle Series, Pud­dle is busy prepar­ing for Christ­mas. He's taken care of the Christ­mas Cards, he's sung car­ols, he's baked, he's dec­o­rated, and all the while, he's wait­ing. Wait­ing for Toot to arrive. Poor Toot is stuck out in the cold with no help in sight. What could pos­si­bly save him and take him home for Christmas?
Babushka Retold by San­dra Ann Horn and Illus­trated by Sophie Fatus
Babushka's heart isn't full and to for­get about it, she cleans…a lot. One evening while clean­ing her sor­row away, she came across an angel, three kings, and their camels before drift­ing off to sleep. After hav­ing a dream about a baby in a manger, Babushka decides to take the baby some gifts. Along the way, she encoun­ters var­i­ous passersby and before long, she has given the gifts away. Will she be wel­come in the sta­ble? Will the child and his fam­ily have gifts? Will Babushka's heart ever overflow?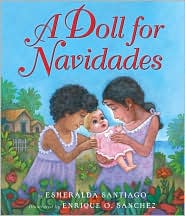 A Doll for Navi­dades by Esmer­alda San­ti­ago and Illus­trated by Enrique O. Sánchez
The whole neigh­bor­hood was ready for Las Navi­dades, or Three Kings' Day and Esmer­alda knew exactly what she wanted. She was won­der­ful through Christ­mas and the New Year and she was patiently wait­ing for that doll to arrive on Las Navi­dades. Finally the morn­ing has arrived! Esmer­alda is so excited until her younger sis­ter gets the doll she wanted. How will she han­dle this dis­ap­point­ment? Will her fam­ily sym­pa­thize with her at all?
Eloise at Christ­mas­time by Kay Thomp­son and Draw­ings by Hilary Knight
Eloise is one busy child around the Plaza on Christ­mas. She's pass­ing out gifts to the staff. She's singing and dec­o­rat­ing with Nanny. She's doing any­thing and every­thing she pos­si­bly can and before you know it, the tor­nado that is Eloise, is cel­e­brat­ing Christ­mas morn­ing with the peo­ple clos­est to her…but who are they?
What is your favorite Christ­mas book?
As a mother of two and a for­mer early child­hood edu­ca­tor, Anna com­bines her pas­sion for teach­ing and love of par­ent­ing in every day life. Over at Learn Like A Mom, she's embrac­ing life's teach­able moments by shar­ing learn­ing oppor­tu­ni­ties found in var­i­ous par­ent­ing and edu­ca­tional envi­ron­ments. You can find more from Learn Like A Mom on Face­book, Twit­ter, Pin­ter­est, Google+, and Insta­gram.
Pin It