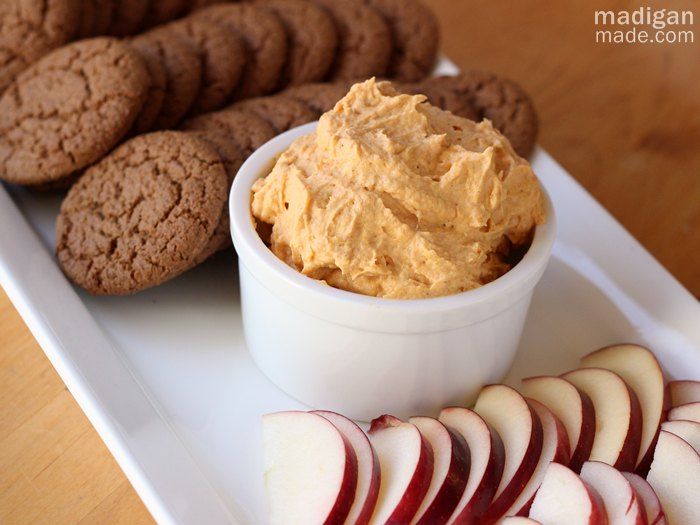 Hi Mom Endeavors readers! My name is Shannon and I blog over at Madigan Made.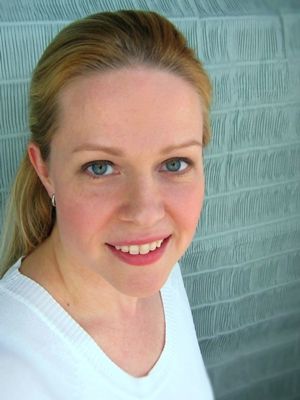 Some people have called me the Clark Kent of craft blogging. By day, I work as a pharmacist and by night I create simple crafts, décor and much more. I love sharing easy and creative ideas with my readers… including simple recipes.
I love fall! Thanksgiving is one of my favorite holidays. Today I wanted to share with you one of our family's favorite desserts for this time of year… pumpkin fluff! This dip would be a nice, light option to include on your dessert table this Thanksgiving. And it goes great with apples, making it a great fall fruit dip, too!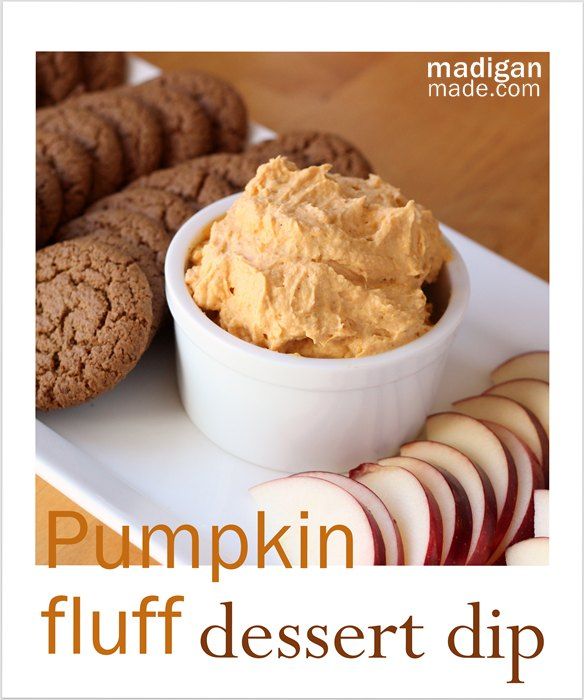 Simple Pumpkin Fluff
Adapted from this recipe on Allrecipes.
Ingredients:
8 oz. container frozen whipped topping
1/2 of a can (15 oz.) of  pureed pumpkin
1 tsp. pumpkin pie spice
1 small package (3 oz.) of instant vanilla pudding
Gingersnap cookies (or graham crackers)
Apples, sliced
Directions:
Using an electric blender, blend the first four ingredients in a large mixing bowl.
Then just refrigerate the dip until you are ready to serve. Share the dip with cookies and/or apples.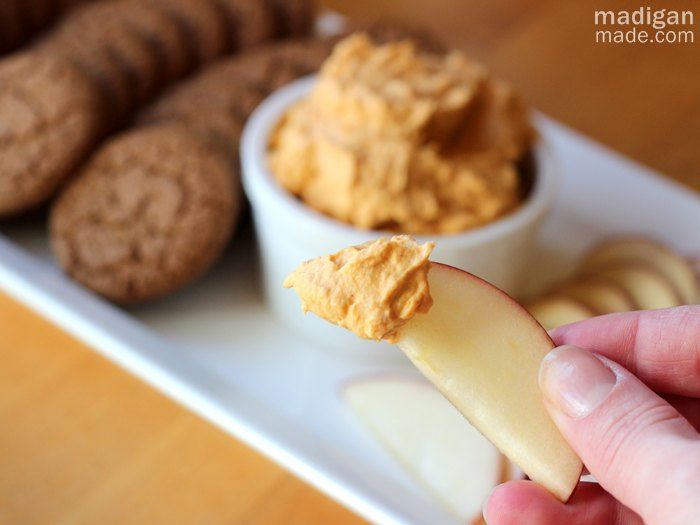 The pumpkin flavor in this dessert is light and mellow. Even if you are not crazy about pumpkin pie… I bet you'll still enjoy this dip either way.  I love that you can eat it with a cookie or fruit. OR you could just eat with a spoon! (I am soo guilty of that one!)
If you like easy ideas like this recipe, please join me at Madigan Made!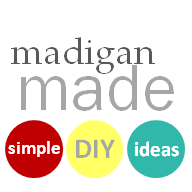 I'm a big believer that creativity can be THAT simple… let me show you! You can find me over at my blog, Madigan Made, and follow me on Facebook, Twitter, Google+ or Pinterest, too.
Thanks so much, Sara, for inviting me to share today!