Hello, it's Kari back with a delicious recipe: my grandmother's "Pecan Tassies," also known as mini pecan pies. These little pies are perfect for this time of year and this recipe is one of my most requested.
Just imagine a plate full of Pecan Tassies at your Thanksgiving buffet. And the best news: they are pretty easy to make! I'll walk you through it now.
First, get the crust ready. Roll out your favorite crust recipe…(or, if you need a shortcut, use the pre-made crusts in the refrigerator section. Sometimes, when I'm in a hurry I use this option. It's ok, I won't tell!) Roll the crust out a bit thinner than you would a regular pie. These are such tiny little pies, and they only need just a thin layer of pie crust.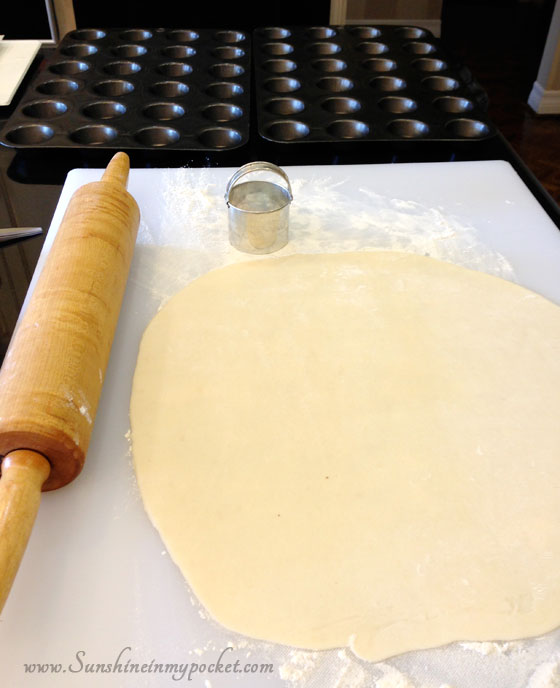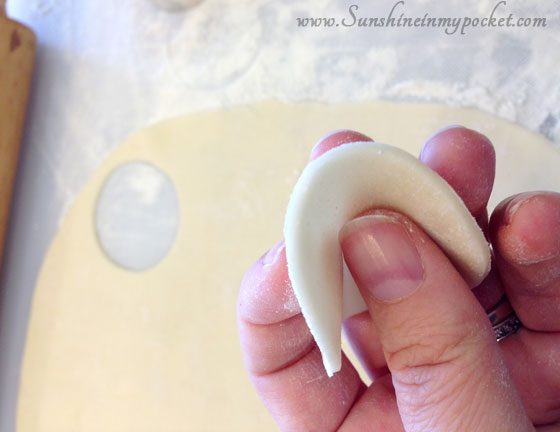 See how thin that is? Use a 2 inch circle biscuit cutter to get just the right size (a scalloped edge circle cutter would be cute, too). Now, grease the mini muffin tins and place the circles of crust in each one. Press them in…here I am using the wood plunger that came with my mini muffin tins.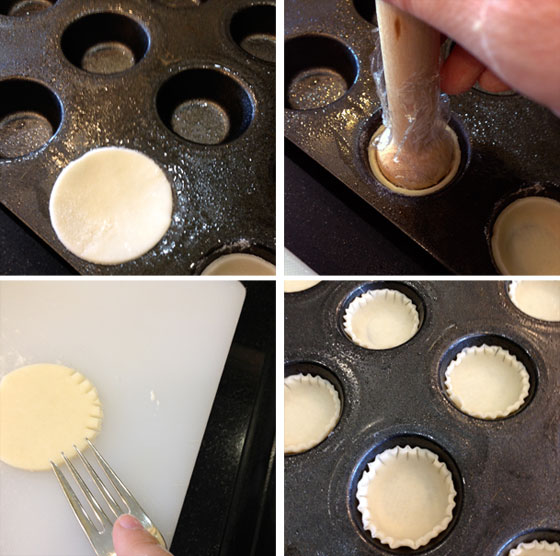 For a more "homemade" look, crimp the edges of each circle with a fork. I think this makes it look a little more fall-like!
Next, chop up about a cup of pecans. A food chopper makes quick work of it.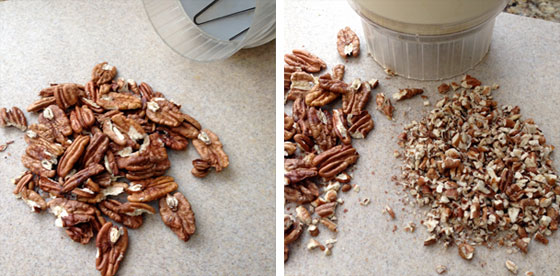 Then, mix together the filling ingredients in a mixer:
3 eggs, beat well
2/3 c. sugar
1/3 c. butter, melted
1 c. dark corn syrup
1/3 t. salt
Mix well. Then add in the chopped pecans and stir.
Drop by a tablespoon into each mini pie crust. Bake at 375 degrees for 12-15 minutes.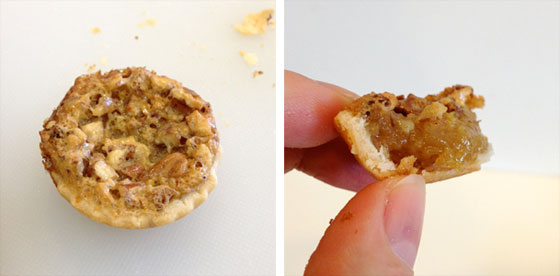 When they come out of the oven, they will be a little browned around the edges and quite puffy. The middles will drop a bit, making the perfect indentation for whipped cream! The inside of these little pies are so delicious.

And, if you want a special treat, make fresh Cinnamon Whipped Cream to top these little pies. (Read more about that cinnamon whipped cream here.) YUM!!!!
Also, check out my Bite-Sized Pumpkin Pie recipe or Sara's Mini Pumpkin Pies to fill your dessert buffet with even more mini pies this holiday. You could even do a whole mini-desserts bar for extra fun!
Enjoy!!
For more from Kari, head over to her blog, Sun­shine In My Pocket, or fol­low along with her on  Face­book, Twit­ter, and/or Pin­ter­est!