Avengers Assemble! Hawkeye's Target Practice Pizza Dip (made as part of a sponsored partnership for Avengers: Endgame) is perfect for an Avengers party or Avengers movie night! 
Who else loved Avengers: Endgame and is SO excited to be able to have it at home?! We are! But if you haven't seen it, be sure to read our Avengers: Endgame review here. So in celebration of the movie releasing on Blu-ray/DVD on August 13th (and July 30 on Digital), we're sharing this SUPER tasty target practice pizza dip inspired by Hawkeye.
Hawkeye Avengers Recipe
Hawkeye is one of our very favorite Avengers! In fact, Mr. Mom Endeavors dressed up as Hawkeye for our family Avengers Halloween theme. And while we was sorely missing from Avengers: Infinity War, he played a VERY key role in Avengers: Endgame. In fact, the whole opening sequence of the movie is about Hawkeye and that scene centers around target practice. So, when I was asked to create a recipe inspired by Hawkeye, I had to do something to incorporate the target and the arrows. And what's tastier for a party or movie night recipe than a delicious dip?! 
Seriously you guys, this recipe is SO good and SO easy to make! Just like Hawkeye is pretty much a "can't miss shot", this is a "can't miss" dip that your Avengers party guests or family movie night watchers are going to love. I also happen to love that this particular target is modeled fully after the one used in the movie! So, grab your pretzel stick arrows and you won't miss the mark diving into this bullseye! 
Hawkeye's Target Practice Pizza Dip Recipe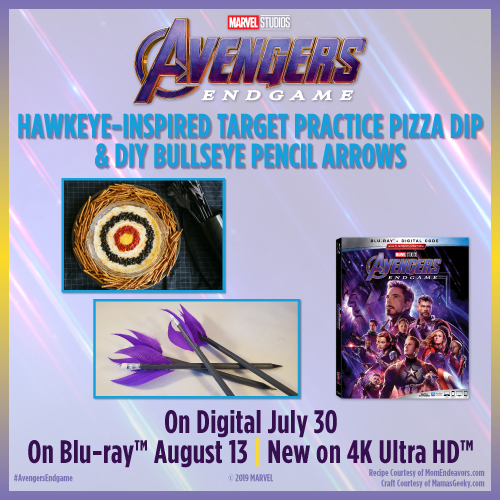 Hawkeye's Target Practice Pizza Dip
Enjoy this bullseye pizza dip, perfect for an Avengers Party or Avengers Endgame Movie Night!
Ingredients
8

oz.

cream cheese softened

1

tsp

Italian

or Pizza seasoning

1/4

tsp

garlic powder

1

cup

marinara/pizza sauce

2

cups

shredded mozzarella cheese

1-2

TBSP

shredded cheddar cheese

1/4

cup

chopped pepperoni

1/2

cup

chopped black olives

Pretzel sticks

arrows for dipping
Instructions
In a small bowl, mix seasonings and softened cream cheese until well combined.

Spread the cream cheese mixture in an even layer in the bottom of a circular oven/microwave safe pie plate or baking dish. Spread the cream cheese in an even layer in the bottom of the prepared dish.

Spread the sauce evenly on top of the cream cheese.

Add the mozzarella cheese evenly over the entire dish.

Arrange the chopped olives in a circle about 1 inch away from the edge of the dish to create the first ring of the target.

Leave approximately another inch of space, then place the chopped pepperonis in a ring/circle to create the red target ring.

Inside the ring of chopped pepperonis, place the shredded cheddar to create the center target.

Bake at 350 for 15 minutes (or until cheese is melted) or microwave for approximately 3 minutes.

Serve with pretzel rods (arrows) and enjoy some tasty target practice fun!
Super easy and delicious! So, plan to make this dip for your Avengers movie night. Then also, be sure to visit Mama's Geeky for some awesome DIY Pencil Arrows to go along with our target practice pizza dip! 
Avengers: Endgame Blu-ray/DVD Release
Marvel Studios' "Avengers: Endgame," the climactic conclusion to an unprecedented, 11-year cinematic journey in which the Avengers take one final stand against Thanos, crushed box office records! Not only did it deliver the biggest opening weekend in history, but it is currently one of the highest-grossing films of all time. And now, you get to have the movie at home!! On July 30, Avengers fans around the world are invited to assemble once more for the in-home release of "Avengers: Endgame" on Digital in HD, 4K Ultra HD™ and Movies Anywhere, followed by a physical release on 4K Ultra HD, Blu-ray™, DVD and On-Demand beginning Aug. 13.
Fans who bring home "Avengers: Endgame" will get hours of additional screen time with their favorite cast members and filmmakers who have shaped the Marvel Cinematic Universe (MCU). Bonus features include a tribute to the great Stan Lee; the tale of Robert Downey Jr.'s casting as Iron Man; the evolution of Captain America; Black Widow's dramatic story arc; directors Anthony and Joe Russo's experience at the helm of both "Avengers: Infinity War" and "Avengers: Endgame"; the making of an epic battle scene with the women of the MCU; the creation of Bro Thor; deleted scenes; a gag reel and more.
In fact, Disney sent us a copy for review and we had fun checking out all the bonus features. Gotta love a gag reel (I just wish it would have been a couple minutes longer) – so fun! Those are my absolute favorites of the extras. But if you need a good cry, go ahead and watch "Avengers Take a Knee". Oh my! You'll definitely want to pick up your copy!!
Blu-ray & Digital BONUS MATERIAL (may vary by retailer):
Remembering Stan Lee – Filmmakers and cast honor the great Stan Lee in a fond look back at his MCU movie cameos.
Setting The Tone: Casting Robert Downey Jr. – Hear the tale of how Robert Downey Jr. was cast as Tony Stark in the original "Iron Man" — and launched the MCU.
A Man Out of Time: Creating Captain America – Trace the evolution of Captain America with those who helped shape the look, feel and character of this compelling hero.
Black Widow: Whatever It Takes – Follow Black Widow's journey both within and outside the Avengers, including the challenges she faced and overcame along the way.
The Russo Brothers: Journey to 

Endgame

 – See how Anthony and Joe Russo met the challenge of helming two of the biggest films in cinematic history … back-to-back!
The Women of the MCU – MCU women share what it was like to join forces for the first time in an epic battle scene — and be part of such a historic ensemble.
Bro Thor – His appearance has changed but his heroism remains! Go behind the scenes to see how Bro Thor was created.
Six Deleted Scenes – "Goji Berries," "Bombs on Board," "Suckiest Army in the Galaxy," "You Used to Frickin' Live Here," "Tony and Howard" and "Avengers Take a Knee."
Gag Reel – Laugh along with the cast in this epic collection of flubs, goofs and gaffes from set.
Visionary Intro – Intro by directors Joe and Anthony Russo.
Audio Commentary – Audio commentary by directors Anthony and Joe Russo, and writers Christopher Markus and Stephen McFeely.
Like it? Pin it!