This is a Sponsored post written by me on behalf of American Frozen Foods Institute and the Frozen Food Roundtable. All opinions are 100% mine.
I'm all for saving time & money in the kitchen when I can –especially when it can be done without sacrificing too much quality! One way I do that is by using our freezer! In fact, we even have an additional standup freezer in our garage. I freeze a lot of meals and I like to keep a number of frozen food products (especially vegetables & fruits) on hand for freshening up meals. There really are a lot of benefits of frozen foods! Freezing naturally pauses foods made with fresh, quality ingredients and suspends them there until the moment you're ready to enjoy them, locking in freshness, flavor and nutrients. Plus, there are SO many times when I buy fresh produce and then it goes bad before I'm ready to use it. So, frozen vegetables really works well for us – they're ready whenever I need them. No running out to the store last minute, no worry about the veggies in my fridge being bad (especially broccoli – bad broccoli smells SOoooooo gross). The frozen items save me time (and I'll take all the time I can get while trying to juggle 3 boys and a busy work-at-home schedule) without compromising taste or nutrition. Here's some info on fresh vs frozen.
I also find that I use more vegetables in my cooking when I have the vegetables conveniently on hand, prepped (washed, cut, etc), and ready to go in the freezer. And, I'm all for making sure our family gets more veggies! Frozen foods definitely offer a wide variety of easy-to-prep options, but what we tend to keep on hand are things that you see above. Lots of different frozen vegetables, convenient protein options to add for quick breakfasts, frozen fruit (great for smoothies), and potatoes (wedges for quick dinners, hash browns, etc).
Here are a few meal ideas that I've "freshened up" by adding frozen foods:
Cheesy Ham & Broccoli Hash Brown Casserole
Blueberry Banana with Red Beet Smoothie
Lots of tasty stuff, right?! And, that's just a small sample of the delicious recipes I've done with frozen food ingredients! Having some frozen foods on hand really does make it so easy to customize recipes – saving me time & money in the kitchen without sacrificing quality!
How do YOU freshen up meals with frozen foods?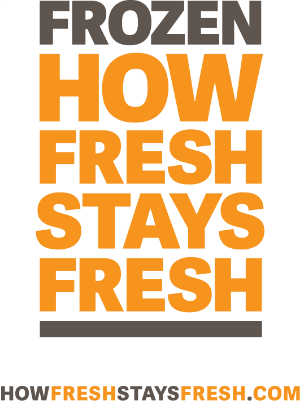 For more ideas on using frozen foods, visit How Fresh Stays Fresh!