Hello! My name is Sara and I blog at CleverPinkPirate.com! I'm so excited to participate in Sara's Cornocopia of Creativity this year! It's hard to believe that Thanksgiving is coming up so soon and Fall is nearly half over. While I love Christmas time, I try to decorate for Fall and Thanksgiving for when we have friends and family come over. A big part of my decor this year for any event or holiday has been printables. Oh how I wish I was as talented as some of these other fabulous bloggers who create awesome printables. Even though I am not able to create one myself, I am very grateful to those who share their printables with others! Below I am doing a round up of some of my favorite Free Fall & Thanksgiving Printables!
I love this set up of a Thanksgiving spread from Tom Kat Studio, perfect to use before Thanksgiving and during dinner! Find her printable here: http://www.thetomkatstudio.com/thanksgivingprintables/
I have this bad habit of saying y'all way too often, it wouldn't look so bad except this girl is not from the south. But naturally when I saw these cute Happy Fall Y'all printables from Make.Bake.Celebrate I couldn't resist including them in this roundup! You can find her recipe for Fall Trail Mix and the free Fall printables here: http://makebakecelebrate.blogspot.com/2012/08/fall-trail-mix-with-free-printable.html
Amy from LivingLocurto.com never fails to provide cute printables on her blog. She is sharing her "Orange You Happy It's Fall" printables on her blog here: http://www.livinglocurto.com/2012/09/fall-gift-tags/. They would be perfect to wrap up with a Fall treat for neighbors and teachers!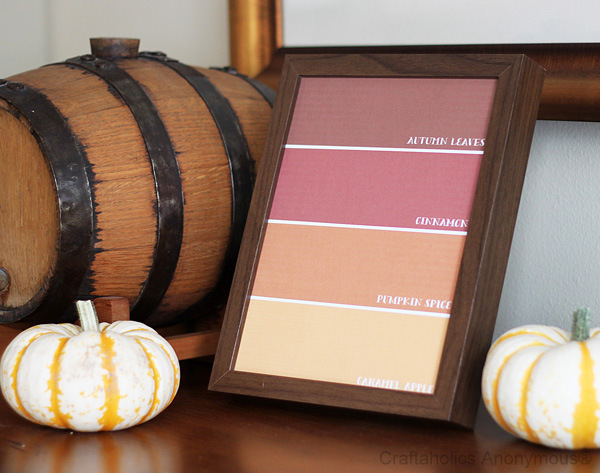 If you love the Ombre and Paint Chip decor, you will love this printable from Craftaholics Anonymous! She is sharing this cute printable here: http://www.craftaholicsanonymous.net/autumn-paint-chip-fall-printable
One thing I have learned hosting holiday dinners is little ones need entertainment before dinner is served. The Intentional Momma is sharing a few printables for little one's on her blog here: http://theintentionalmomma.blogspot.com/p/printables.html
Subway Art is such a fun way to decorate, last year on the Cornocopia of Creativity, Lil Luna shared this cute Subway Printable that definitely deserves to be shared again! Find her printable here: https://www.momendeavors.com/2011/11/cornucopia-of-creativity-thanksgiving-subway-printable-lil-luna.html
In case you missed this printable earlier on Cornocopia of Creativity, Andrea from WorleyHouseBlog.com shared 3 Thanksgiving Printables here: https://www.momendeavors.com/2012/11/thanksgiving-printables-2.html
I hope you enjoy these printables and be sure to thank the hostesses of the ones you print!
I'd love for you to come and visit me! I blog about living creatively all while being cheap with DIY projects, Decor Makeovers, Recipes and more! You can find me at www.cleverpinkpirate.com and I have an Etsy store too with charm jewelry at www.cleverpinkcharm.com .