These SOLO – A Star Wars Story free printable activities and coloring pages are sure to be a hit with your favorite Star Wars fans and are perfect for your galactic movie nights! 
SOLO – A Star Wars Story is now out on Blu-ray/DVD and we've already enjoyed a family movie night! We LOVED the movie – in fact, we saw it twice in theaters! Yes, I KNOW it's not Harrison Ford as Han Solo, but Alden Ehrenreich does a great job! The movie really is a whole lot of fun, especially every scene with Lando! The best! So, I'm thrilled to share some fun SOLO printables with you, perfect for a family movie night, a Star Wars party, or just a fun activity for your favorite little Star Wars fans!


Star Wars SOLO Activity Printables
Just click on the links below to download the free PDF files for whatever coloring pages and activities you'd like! You can save the files and print!
Plus, you can download these adorable 3D Star Wars paper crafts in the image below (just click this yellow button)!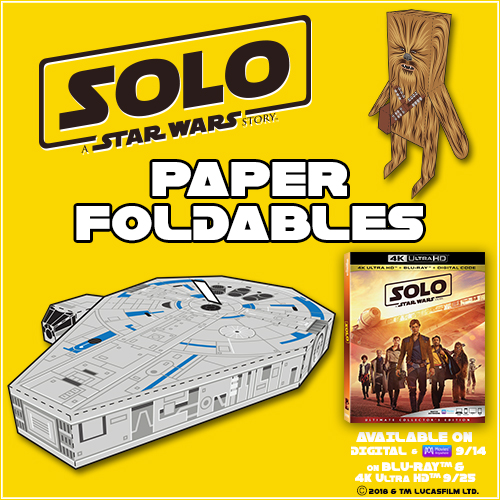 For even more free Star Wars printables, be sure to check out these posts:
So, be sure to print out your favorite printables and pick up your copy of SOLO: A Star Wars Story. Disney sent us a copy for review (we loved the movie anyway) and we had fun checking out all the bonus features. Here's what you have to look forward to:
SOLO DIGITAL & BLU-RAY BONUS MATERIAL
Solo: The Director & Cast Roundtable – Sit down with director Ron Howard and the stars for an intimate and entertaining discussion of the film's making.
Team Chewie – See what it takes to bring your favorite Wookiee to life in this lighthearted look behind the scenes.
Kasdan on Kasdan – Iconic Star Wars screenwriter Lawrence Kasdan and son Jonathan share what it was like to write the movie's script together. 
Remaking the Millennium Falcon – Track the transformation of the most famous ship in the galaxy, from Lando's swank and impeccable pride and joy to Han's stripped-down hot-rod freighter with "special modifications." 
Escape from Corellia – Get behind the wheel for the making of this high-octane chase through the streets of Corellia. 
The Train Heist – Explore the challenges and thrills of creating this action-packed sequence, including its remote and spectacular effects.
Becoming a Droid: L3-37 – Meet the newest droid—and the talented actor who helps bring her to life.

 Scoundrels, Droids, Creatures, and Cards: Welcome to Fort Ypso – 

Take an in-depth tour of the rough-and-tumble bar where strangers mix and gamblers risk all in the legendary card game, Sabaac.

Into the Maelstrom: The Kessel Run – Join Han and Chewie at the controls of the Millennium Falconto see how this legendary moment in Star Wars history unfolds.
SOLO DELETED SCENES
The Millennium Falcon: From Page to Park – An exclusive look at the history of the most famous ship in the galaxy, its origin and development, and how it will translate in one of the most anticipated expansions in Disneyland's history.
Umm…and can we just say how stinking excited we are for "Star Wars Land" to open in Disneyland with a Millennium Falcon ride?! WE CANNOT WAIT!!!!!!!!! We're already planning our trip to Disneyland for this summer whenever the area opens!


So more Star Wars fun awaits! May the Force be with you!