This is a Sponsored post written by me on behalf of Carole P. Roman for SocialSpark. All opinions are 100% mine.
With the birthday of a very famous children's book author (Dr. Seuss) happening this week, it's the perfect time to celebrate reading and fun books. If you have little pirate fans at home, then you should definitely check out the Captain No Beard stories! Geared toward boys and girls ages 3-8, they are perfect for my boys!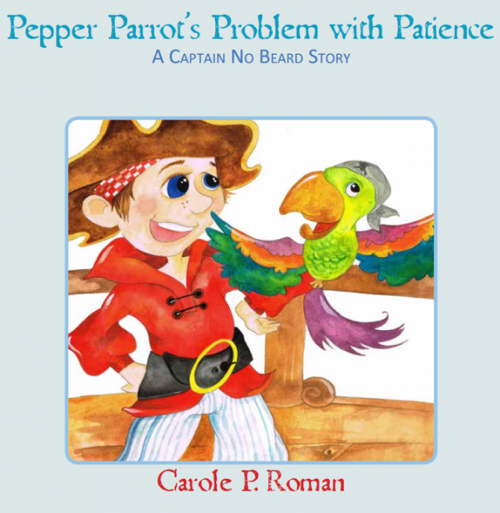 Pepper Parrot is the newest member of the Captain No Beard and the Flying Dragon crew! Readers are introduced to this new character in Carole P. Roman's new book, Pepper Parrot's Problem with Patience: A Captain No Beard Story. Here's a brief story overview:
Captain No Beard and the animal crew of the Flying Dragon pirate ship are excited to welcome another crewmember today. But the day may be a disaster when Pepper Parrot becomes frustrated while attempting the drills with the others. Not knowing her right from her left, she feels anxious and has a temper tantrum when she cannot keep up with the crew. Hallie, the ship's first mate, befriends Pepper and offers to patiently teach her the difference between each side. By learning a trick that will help her remember which side is the left and which is the right, Pepper Parrot's disappointment and sadness disappear. Her self-esteem rises and she becomes confident in her abilities and her future with the crew on the Flying Dragon. Her newly found self-respect brings an important message to her, her crewmates, and each of us as we face challenges.
I love books with a good message for the boys! Teaching them concepts of being a good friend, encouragement, and teamwork with fun animals and a pirate theme is perfect for our house! They are SUPER into pirates right now. So, these are books that I'm excited about having for them and I can't wait to see what story in next in this series!
What children's books have YOU been reading lately?