Yum! Our contributor, Kari from from Sun­shine in my Pocket, is back with another recipe, perfect for summer! Nothing like all the fresh produce during the summer! And, this garden bruschetta using fresh garden tomatoes looks divine! 
Hi all! I am thrilled to be back for another guest post at Mom Endeavors! And today I'm sharing a favorite summer-time recipe. It's prime tomato time in our garden and this year we have so many tomatoes…which means it's time for the best Bruschetta ever! This is the garden bruschetta makes the best summer appetizer or snack. It is a great hors d'oevere for a party, too. And it's simple to put together (bonus)!
This is my very favorite Garden Bruschetta recipe, and it only takes a few ingredients:
6 medium Tomatoes, diced
1 c. Basil (measure whole), cut into ribbons
2-3 T. Extra Virgin Olive Oil
2 cloves minced garlic
1 t. Kosher Salt
Baguette Bread for serving
Home-grown tomatoes are the best to use, but you can also use store-bought tomatoes. And I'll tell you a trick for saving time and getting all the tomatoes the same size: an alligator food chopper! (I use the Vidalia Onion Chopper, which is very affordable at Bed, Bath and Beyond). Using this chopper makes this recipe a snap: Cut the tomatoes in half, then place them in the chopper. Snap the chopper closed to cut the tomatoes all the same size. I can't tell you how much time this saves! I reach for my chopper every time I make Bruschetta, Pico de Gallo, Garden Salsa, Peach-Mango Salsa….etc.
Put the chopped tomatoes in a bowl, add basil, garlic, kosher salt and olive oil. I drizzle the olive oil in slowly…until it looks just coated with the olive oil. Stir. Refrigerate and allow the flavors to marry for at least 10 minutes.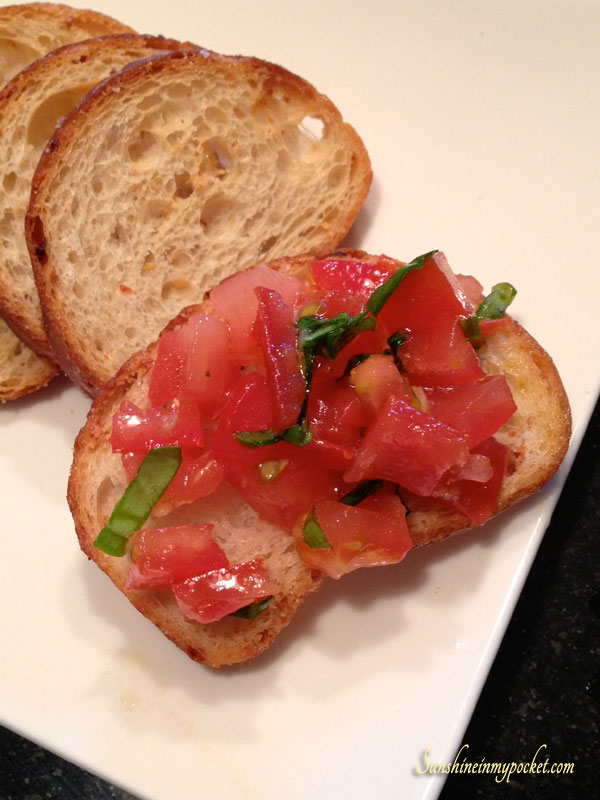 Serve on toasted baguette bread. To toast the bread, slice thinly and place on cookie sheet. Drizzle or spread a little olive oil on the bread slices. Broil in oven for 2-4 minutes. Watch these carefully, they can burn quickly!
I recently found Boudin's toasted bread at Costco (pictured above). And it is delicious! So give that a try as an alternate to baguette bread.
DINNER IDEA: Enjoy this Bruschetta tomato mixture as a delicious addition to top grilled chicken.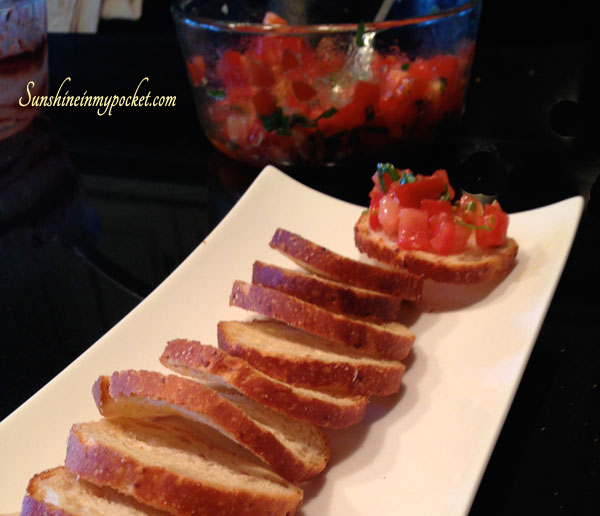 Yum!! If you like artichokes, you can take a look at this delicious artichoke bruschetta! And, in case you missed Kari's post here on Mom Endeavors last month, be sure to check out her bruleed orange french toast! Perfect for a fancy breakfast!!
Kari VanNoy is the blogger behind Sunshine In My Pocket. She loves to write about all things happy and deliver a little sunshine every week, through crafting, cooking, baking, and gifting. With a strong desire to find and share the best things in life, she also conducts taste tests and posts about her findings twice a month on Taste Test Tuesdays! She is a mother to 3 (all recently grown up!) and lives in Mesa, Arizona with her husband and two adorable dogs. For more from Kari, you can follow her on Facebook, Twitter, Pinterest, and/or Instagram.