With the birthday of the fabulous Dr. Seuss right around the corner, I'm excited to share a quick & easy Seuss-inspired treat! Kids will love having Cat in the Hat push pops for a snack or dessert treat! They're perfect for eating after reading the classic book!
To make your own Cat in the Hat push-up pops, you'll for sure need the push pop canisters. You can find them multiple places online (usually sold in bulk). Here's an affiliate link for Amazon: Push Pop Containers with Lids – 25 ct
. They tend to be cheaper per container the more you buy, so I recommend going in with a few friends on like a 100 count pack (each getting 1-2 dozen or so) to make it a sweeter deal. For the project, if you want a cat on your pops, just find some clip art online and print some on white card stock! To make the hat brim, just use the card stock to cut out a circular shape to fit around.
Now for the push pop filling…
Honestly, what would work absolutely the best for these would be red velvet cake & cream cheese frosting. They would hold in place the best and could be made ahead. But, I decided I wanted to make something much faster (no baking involved) and healthier. The down-side is that mine are WAY messier! I used almost pureed strawberries and a quick cream cheese frosting. I only had frozen strawberries, so I used my blender to crush them up (because I was lazy and didn't want to wait to thaw them). Obviously though, that gets messy and doesn't hold up like cake. I think you could also try fresh strawberry slices (which would be much less messy). The cream cheese frosting-like filling was perfect for these though (it paired great with the strawberries)! I don't think whipped cream or Cool Whip would hold up well enough, but you could certainly try it. Basically, you just want layers of red & white. (Another idea would be to try red jello jigglers and cream). Cat's hat starts and ends with red. So, keep that in mind as you work no matter what ingredients you're using. I whipped up 3 of these in about 15 minutes…and we had one get snagged by little hands before I could even take a picture! 😉 
One thing is for sure though, whether you go the quick route with some strawberries & frosting or take the time to bake to make sure they look really nice, kids are sure to love these Cat in the Hat push-up pops! The messiness did not stop this cute little guy from devouring his Dr. Seuess treat!
For more quick & fun Dr. Seuss crafts/recipe ideas, click the image below to hop over to the Dr. Seuss Craft Lightning roundup! 🙂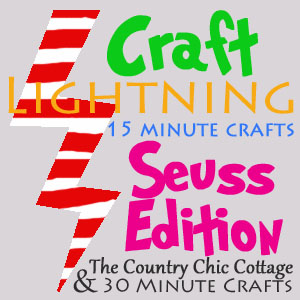 Plus, don't miss this ulti­mate Dr. Seuss list with over 75 Seuss-tastic crafts & activ­i­ties!