This is a Sponsored post written by me on behalf of Bolthouse Farms. All opinions are 100% mine.
Do you love carrots? How about carrot juice? Or, carrot cake perhaps? Today's post if full of all kinds of carrot goodness thanks to the folks at Bolthouse Farms. And, did you know that those folks behind Bolthouse Farms are carrot farmers (with more than 95 years of experience)?! These carrot farmers not only grow carrots, but also make delicious fruit and vegetable juices! When contacted about trying out some of the 30+ flavors that Bolthouse Farms offers, I knew I wanted to make some sort of delicious recipe(s) with them. Various smoothie concoctions would have been an obvious choice, but I was stuck on the carrots. Carrot cake is my hands-down favorite. But, I wanted something a little more "breakfasty" to go with our Bolthouse juice! So, I decided on attempting carrot cake muffins made with Bolthouse Farms 100% Carrot Juice! The results….oh my yum!!!
Carrot Cake Muffins with Carrot Juice
Ingredients:
1C white flour
1C wheat flour
1 C granulated sugar
1 C brown sugar
1t baking powder
1t baking soda
3t cinnamon
4 eggs
1/4 C oil
1/2 C applesauce
3/4 C carrot juice
1 t vanilla
3 C grated carrots
1/2 C shredded coconut
Directions:
Preheat oven to 350.
In a medium bowl, combine flour, baking powder, and baking soda.
In a large bowl, beat eggs until frothy. Then, gradually add in the sugars.
Add in oil, applesauce, juice, and vanilla – beat until mixed well.
Gradually stir in the dry ingredients.
Add grated carrots & shredded coconut and mix well.
Pour mixture into greased muffin tins and bake at 350 for 25-30 minutes (or until toothpick inserted in center comes out clean).
Mmm….I wish the smell could come through your screen right now! These little muffins are super good! They'd certainly be even yummier with a smear of homemade cream cheese frosting on them. But, alone, they are quite tasty, moist, and full of carrot goodness!!
So, you can certainly make some tasty foods with Bolthouse Farms juices. But, the drinks are definitely great on their own! And, there's such a great variety–ranging from carrot juice and carrot juice blends to Amazing Mango juice to breakfast smoothies and protein shakes. They even feature holiday egg nog treats. Yum! Here's the variety I got to sample:
We're loving everything we've tried so far! The Mango Coconut Splash is SO light and refreshing! I love it! And, if you snap a pic like the one above (or of just your favorite Bolthouse Farms drink), you can get a $1.50 off coupon as part of the Bolthouse Instagram Promotion. Here are the details…
Now through December 31st, anyone who 1) Snaps a pic of a Bolthouse Farms bottle or ad, 2) Uploads it to their public Instagram account, and 3) Tags it with #CarrotFarmers and #GotCoupons will get a $1.50 off coupon from @BolthouseFarms in the comments field.
With that coupon, you could get an especially sweet deal if you catch the products on sale!!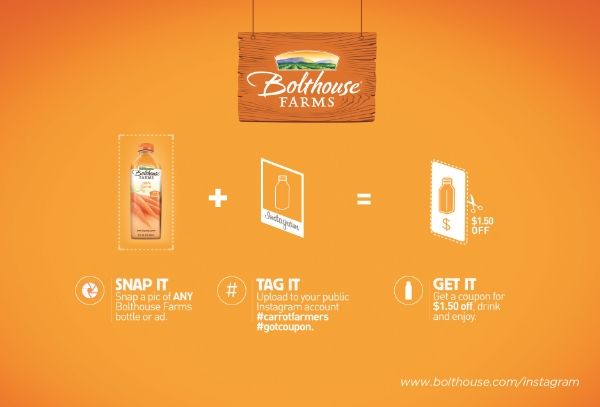 Have YOU tried Bolthouse Farms? What's your favorite flavor?