I'm so excited to share a little home refresh project with you today! It never ceases to amaze me how a little paint can truly transform a space! So, I'm thrilled to partner with Lowe's as a sponsor to show you how easy it is to spruce up your bathroom by painting the vanity!

We are SOOoooo happy with the way this project came out! ALL of the cabinets in our house are the outdated orangish oak and I've really been wanting to lose that look. So, with some other house remodel stuff going on (like the new wood tile floors), we decided it was time to tackle painting the cabinets. Now, truth be told, we were a little worried about this idea going in. Would the painted cabinets look ok? How involved would it be? Would it be obvious that we painted it? I had concerns. In fact, we decided on trying the vanity first (before attempting our oak banister or kitchen cabinets), "just in case". But I'm pleased to say that with just a little prep and the right paint from Lowe's (plus some new hardware), the vanity looks brand new! It's exactly what we were hoping for!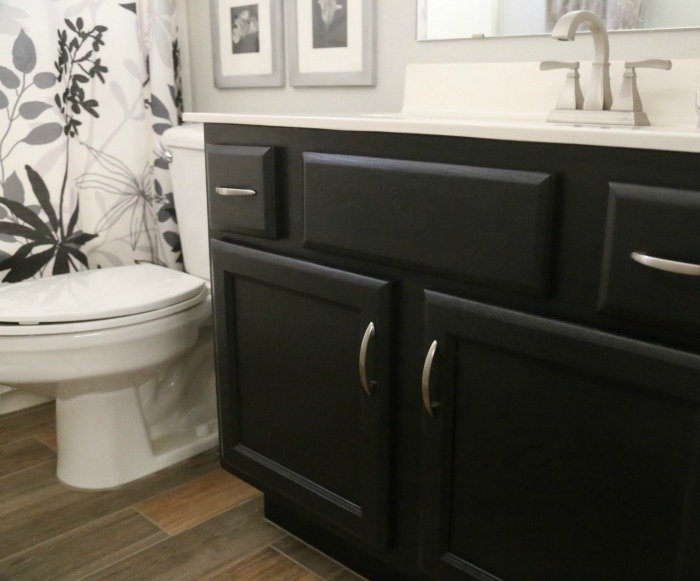 There are so many great paint choices at Lowe's, starting at just $17.98! So we love getting our paint there! I love that Lowe's has a Paint Guarantee too! The guarantee says, "If you are not completely satisfied with your interior or exterior liquid paint purchase, simply return the unused portion in the original container within 30 days of purchase. We will replace it with a comparable can of paint or refund your money based on our return policy (Lowes.com/return). We reserve the right to limit guarantee in our discretion in the event of suspected fraud or abuse. US only."  Since paint decisions can be tough to make, it's nice to know that there is a guarantee with whatever paint you decide on from Lowe's.
We ended up with the color "Black Magic" from the HGTV HOME by Sherwin-Williams line. And since we decided on a color from that line, we opted to try the HGTV HOME by Sherwin-Williams Infinity Tintable Semi-Gloss Acrylic Interior Paint and Primer In One Paint. I loved the idea of the paint and primer in one. And, I'm pleased to say that it worked beautifully, especially with the Purdy brush!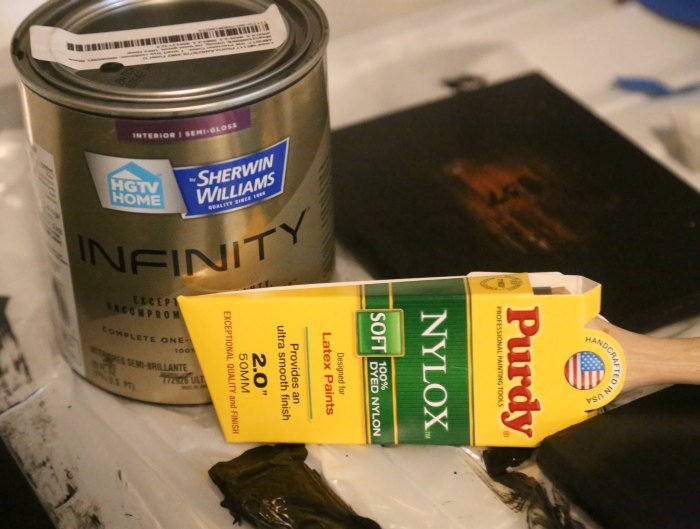 The whole process really went smoothly and quickly! Just an easy one weekend project! We started by deciding on the paint color (just taping up some paint chips to see what we liked best). Then, once we bought our paint supplies at Lowe's, we came home and got to work. The first step was washing down the vanity (we just used some mild cleaner & water) and then lightly sanding the whole thing. After sanding, you need to be sure to clean everything off really well again. We removed all the doors and drawers. And, we also prepped the area around the vanity (with painter's tape and some plastic cloths). Then, I started painting!

With the primer and paint all in one, we did NOT prime the cabinet first. It was SO nice! The first night, I put a very thin coat of paint over all the surfaces. After that coat of paint, you can see that (in the photo of the cabinet doors above) quite a bit of the old wood was still showing through. And that's ok! I wanted to make sure the paint was not too thick so we didn't get drips, or globs, or anything like that. That first coat dried for about 12 hours (over night plus a little extra) and then I finished up painting the second coat on the second day. Again, I was sure to do VERY small amounts of paint just on the tip of the brush. THIN coats. And it worked SO well!!! You can't see any brush strokes or anything!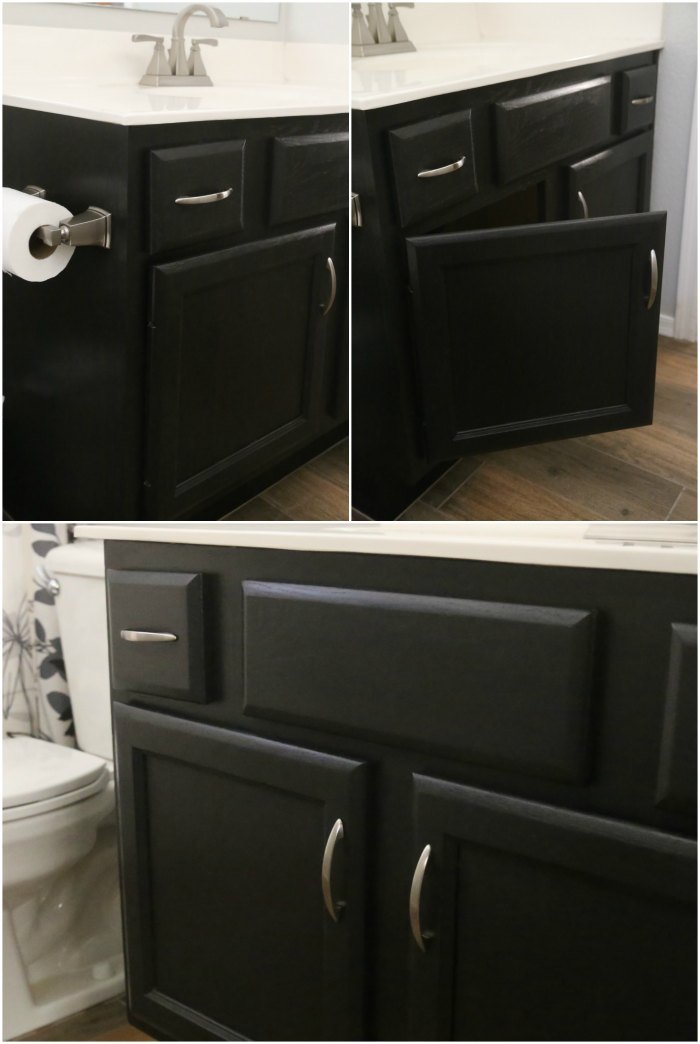 I LOVE that you can see some of the wood grain still coming through, yet everything is shiny and smooth!! WHAT A DIFFERENCE just a little paint can make! We LOVE it!  Then to really finish things off, we couldn't resist adding some cabinet/drawer pulls, along with a new faucet and new toilet paper holder! It just really completes the look! We've now had a few people over who though we just bought a whole new vanity; they couldn't believe we painted it! So, we're calling that a win!
Do YOU have any home painting projects you want to tackle! Be sure to go check out the paint selection at Lowe's where you'll "love your paint, it's guaranteed"!
Like it? Pin it! 
Disclosure: This is a sponsored post written by me on behalf of Lowe's. All opinions and experiences are entirely my own.