Hello! My name is Sara and I blog at CleverPinkPirate.com! I'm so excited to par­tic­i­pate in Sara's Cornocopia of Cre­ativ­ity this year! It's hard to believe that Thanks­giv­ing is com­ing up so soon and Fall is nearly half over. While I love Christ­mas time, I try to dec­o­rate for Fall and Thanks­giv­ing for when we have friends and fam­ily come over. A big part of my decor this year for any event or hol­i­day has been print­a­bles. Oh how I wish I was as tal­ented as some of these other fab­u­lous blog­gers who cre­ate awe­some print­a­bles. Even though I am not able to cre­ate one myself, I am very grate­ful to those who share their print­a­bles with oth­ers! Below I am doing a round up of some of my favorite Free Fall & Thanks­giv­ing Printables!
I love this set up of a Thanks­giv­ing spread from Tom Kat Stu­dio, per­fect to use before Thanks­giv­ing and dur­ing din­ner! Find her print­able here: http://www.thetomkatstudio.com/thanksgivingprintables/
I have this bad habit of say­ing y'all way too often, it wouldn't look so bad except this girl is not from the south. But nat­u­rally when I saw these cute Happy Fall Y'all print­a­bles from Make.Bake.Celebrate I couldn't resist includ­ing them in this roundup! You can find her recipe for Fall Trail Mix and the free Fall print­a­bles here: http://makebakecelebrate.blogspot.com/2012/08/fall-trail-mix-with-free-printable.html
Amy from LivingLocurto.com never fails to pro­vide cute print­a­bles on her blog. She is shar­ing her "Orange You Happy It's Fall" print­a­bles on her blog here: http://www.livinglocurto.com/2012/09/fall-gift-tags/. They would be per­fect to wrap up with a Fall treat for neigh­bors and teachers!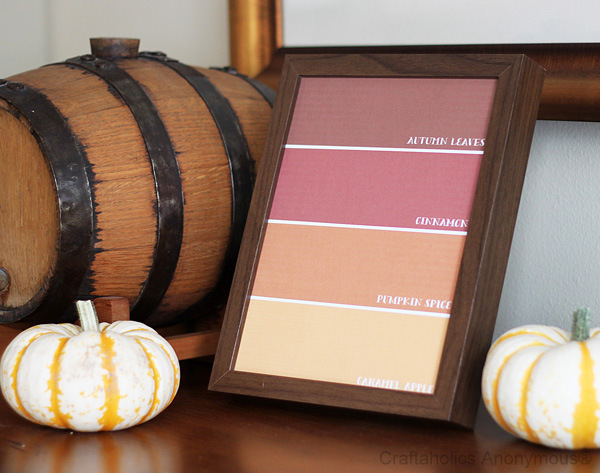 If you love the Ombre and Paint Chip decor, you will love this print­able from Crafta­holics Anony­mous! She is shar­ing this cute print­able here: http://www.craftaholicsanonymous.net/autumn-paint-chip-fall-printable
One thing I have learned host­ing hol­i­day din­ners is lit­tle ones need enter­tain­ment before din­ner is served. The Inten­tional Momma is shar­ing a few print­a­bles for lit­tle one's on her blog here: http://theintentionalmomma.blogspot.com/p/printables.html
Sub­way Art is such a fun way to dec­o­rate, last year on the Cornocopia of Cre­ativ­ity, Lil Luna shared this cute Sub­way Print­able that def­i­nitely deserves to be shared again! Find her print­able here: http://www.momendeavors.com/2011/11/cornucopia-of-creativity-thanksgiving-subway-printable-lil-luna.html
In case you missed this print­able ear­lier on Cornocopia of Cre­ativ­ity, Andrea from WorleyHouseBlog.com shared 3 Thanks­giv­ing Print­a­bles here: http://www.momendeavors.com/2012/11/thanksgiving-printables-2.html
I hope you enjoy these print­a­bles and be sure to thank the host­esses of the ones you print!
I'd love for you to come and visit me! I blog about liv­ing cre­atively all while being cheap with DIY projects, Decor Makeovers, Recipes and more! You can find me at www.cleverpinkpirate.com and I have an Etsy store too with charm jew­elry at www.cleverpinkcharm.com .