Ahoy Mateys! Do you love Disney's Pirates of the Caribbean?! We do! So, we're celebrating the release of the  most recent film in the franchise, Pirates of the Caribbean: Dead Men Tell No Tales (affiliate link) on 4K Ultra HD, Blu-ray and DVD today! Since I actually attended the red carpet premiere of this Pirates film, it has a fond place in my heart! So, we were thrilled to get a review copy to have on Blu-ray at home! And to add to the movie watching fun, we have some free printable coloring pages for YOU to enjoy!  
I love making fun snacks or printing activity pages to make movie nights more fun! And, Disney has actually put together some fun printable activity sheet that you can print to enjoy. Just click through the different activity buttons below to print whatever you'd like! You're sure to find something fun!
Click here to download the Pirates Activity Packet
Or how about ye talk like a pirate! Arrrrr! The button below has some fun pages to help git yer pirate-speak in ship-shape! 
And, here some fun Pirate recipes to make with your movie night! Gott love some Pirate Grub!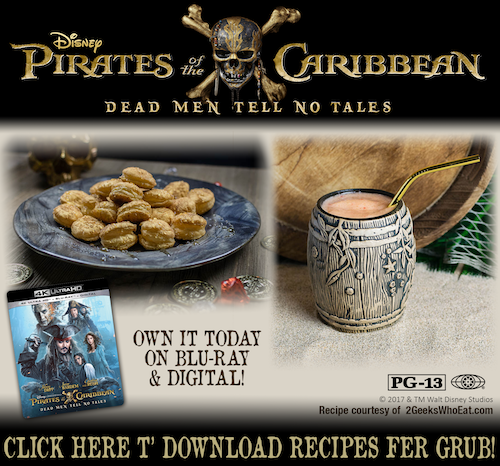 So, be sure to buy your Pirates of the Caribbean: Dead Men Tell No Tales (affiliate link) and print whichever printables you like!  We LOVE having the movie at home! And not only is the movie itself fabulous, but we also think the bonus features you get on the Blu-ray are so much fun (the bloopers are always my favorite)!
SPECIAL FEATURES:
Dead Men Tell More Tales: The Making of a New Adventure – Get unique access into the making of this exciting new "Pirates of the Caribbean" movie with this collection of revealing and entertaining stories that you can view individually or as a "play all."
A Return to the Sea – Two talented filmmakers, Joachim Rønning and Espen Sandberg, team up to bring "Pirates of the Caribbean" back to the screen. Hear how this new chapter of the tale was developed.
Telling Tales: A Sit-down with Brenton & Kaya – Meet Brenton Thwaites and Kaya Scodelario, the young actors behind Henry and Carina. The two sit down together for a revealing conversation on becoming a part of the "Pirates of the Caribbean" film franchise and its continuing legacy.
The Matador & The Bull: Secrets of Salazar & The Silent Mary – Oscar-winner Javier Bardem reveals more about his menacing new character and the foreboding ship he helms.
First Mate Confidential – Go on-set along with Kevin McNally, the affable actor behind the feisty Mr. Gibbs, Captain Jack's reliable first mate from all five movies.
Deconstructing the Ghost Sharks – Peer below the depths at how these ferocious, mythical monsters were designed and brought to life.
Wings Over the Caribbean – Captain Jack has a memorable encounter with Sir Paul McCartney – rock 'n' roll royalty.
An Enduring Legacy – Take one more look at the "Pirates of the Caribbean: Dead Men Tell No Tales" experience and the impact of "Pirates of the Caribbean" — the movies, the ride and beyond.
Bloopers of the Caribbean
Jerry Bruckheimer Photo Diary
Deleted Scenes

Highwayman
Henry Turner Learns a Lesson from Captain Jack
A Whale in Poseidon's Tomb
Alternate Coda: Murtogg & Mullroy "Flogging"