Hi, it's Kari from Sunshine In My Pocket. I love this time of year! And especially all the cookie exchanges and neighbor gifts! This is one of my favorites for the holiday: Chocolate Peppermint Shortbread Cookies. 
The nice thing about this recipe is you can go the easy route and roll the dough into a log (if you have less time), or you can roll it out into cute shapes. And, you can keep it vanilla, or add some cocoa to make it a double chocolate shortbread cookie! Yum.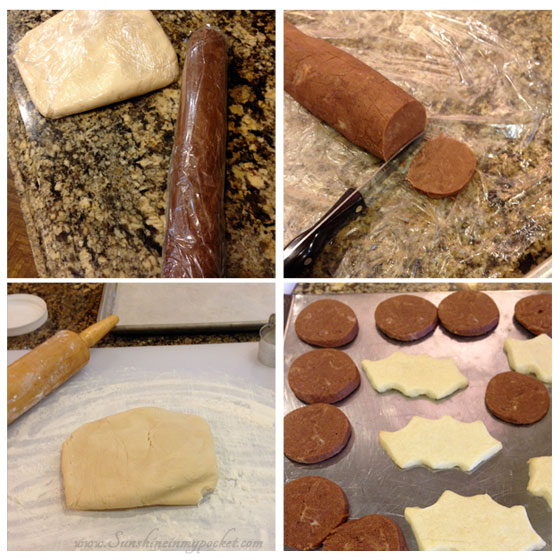 I rolled the chocolate flavored shortbread into a log and put it in the refrigerator to chill, then cut circles with a knife (that's the quicker way to go). I took the vanilla shortbread and rolled it out and cut into cute holly leaves!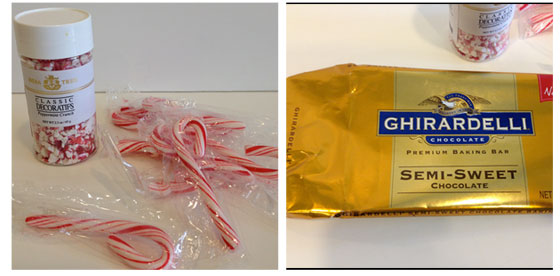 Did you know you can get pre-crushed peppermint candy?! I prefer to crush my own…it's helpful for the holiday stress. Ha, ha! This ghirardelli bar is my favorite chocolate to use for these cookies. You can find it with the Baker's chocolate in the baking section of the grocery store.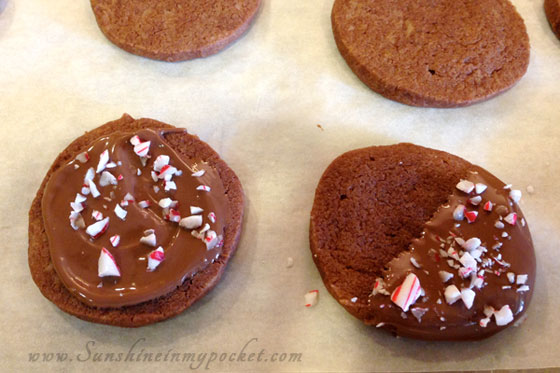 Now you get to be creative, you can spoon the chocolate on the top and sprinkle with the crushed candy cane…or dip half in chocolate. They are delicious both ways!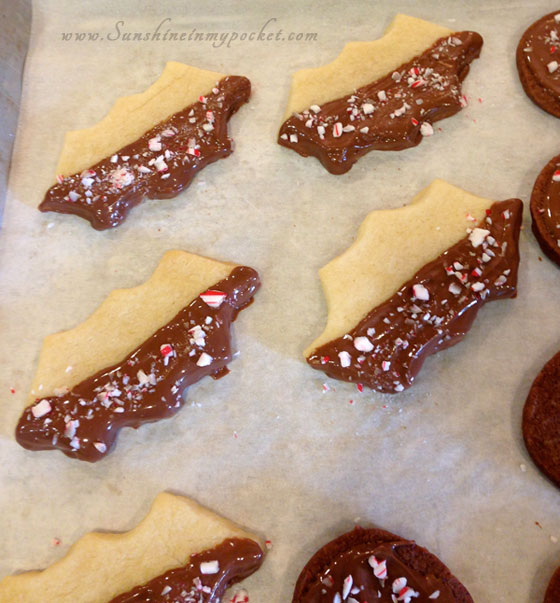 Put the dipped cookies in the refrigerator to help that chocolate along! These cookies have a little crunch to them, which makes them perfect to pair with some hot cocoa.
*Recipe here:
Chocolate Peppermint Shortbread Cookies
3 sticks of butter (1 1/2 cups)
1 c. sugar
1 t. vanilla (OR peppermint extract)
3 1/2 c. flour
1/4 t. flour
crushed peppermint
Ghirardelli chocolate for melting
[Note: if you are making the chocolate shortbread, add 1/2 c. cocoa to flour mixture before adding to dough]
1. Cream butter and sugar in mixer.
2. In a separate bowl, sift together the flour and salt. Add to the butter mixture, mix on low speed.
3. Roll dough in saran wrap and refrigerate until chilled.
4. Cut into circles, or roll and cut out shapes
5. Bake at 350 degrees for 8-10 minutes.
6. Allow cookies to cool. Dip in melted chocolate. Sprinkle crushed peppermint on top.
7. Enjoy with hot cocoa!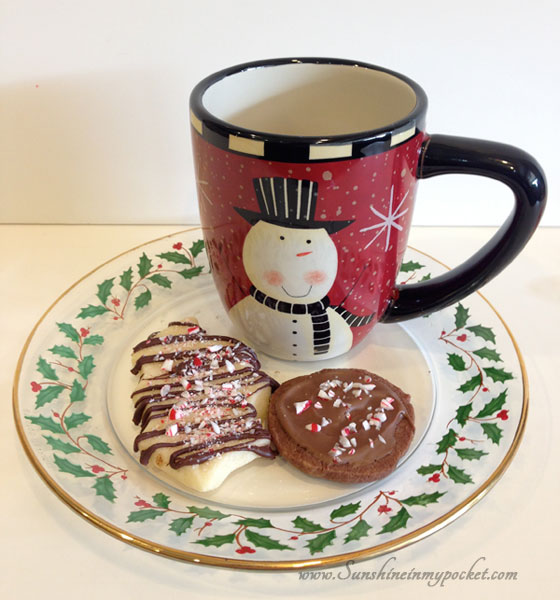 Come on over and check out my Lemon Shortbread Cookies, too.
Have a very Merry Christmas and a Wonderful New Year!
Kari Van­Noy is the blog­ger behind Sun­shine In My Pocket. She loves to write about all things happy and deliver a lit­tle sun­shine every week, through craft­ing, cook­ing, bak­ing, and gift­ing. With a strong desire to find and share the best things in life, she also con­ducts taste tests and posts about her find­ings twice a month on Taste Test Tues­days! She is a mother to 3 (all recently grown up!) and lives in Mesa, Ari­zona with her hus­band and two adorable dogs. For more from Kari, you can fol­low her on Face­book, Twit­ter, Pin­ter­est, and/or Insta­gram.