Hi Mom Endeavors readers! I'm Anna from Learn Like A Mom and I'm here again this month to bring you a list of Thanksgiving Books! If you missed last month's roundup for Mom Endeavors, it was for Halloween and the month before that was 10 books about fall! There are SO many fun children's books to help celebrate and teach about all the different holidays & seasons! So, I hope you enjoy this list of 10 Thanksgiving books! (The list is in no particular order and does contain affiliate links).
Ten Thanksgiving Books
Amelia Bedelia Talks Turkey by Herman Parish
You probably know what to expect with Amelia Bedelia in the title! She is asked to help the third graders with their dress rehearsal and final performance of the Thanksgiving Play. Lines, parts, dresses, hams, and more create confusion around the stage. Will the children be able to perform without a hitch on opening night? What will the audience think of her last minute changes?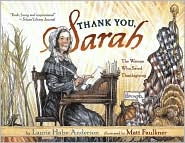 Thank you, Sarah: The Woman Who Saved Thanksgiving by Laurie Halse Anderson
Thanksgiving has been a national holiday forever, right? Well, no. Sarah Hale wanted it to be one, but how long would it take her to convince everyone that it was a good thing to do? How many letters would be written to how many presidents? How many days and years would pass before she finally heard the word "yes?"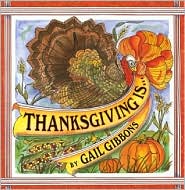 Thanksgiving is… by Gail Gibbons
Thanksgiving is…harvest celebrations, Pilgrims, Native Americans, a holiday, a feast with family and friends, parades, games, plays, and more. This book covers everything that we think of when we think of Thanksgiving, especially giving thanks.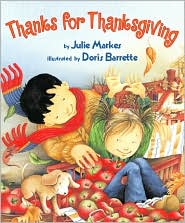 Thanks for Thanksgiving by Julie Markes
This rhyming book appeals to younger readers who'll see that they have plenty to be thankful for in their lives. The list doesn't have to contain large items, but experiences in everyday life are perfect things to be thankful for!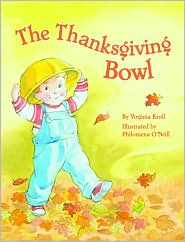 The Thanksgiving Bowl by Virginia Kroll
The yellow bowl at Grandma's place holds our thankful notes. This year, Thanksgiving is outside. When we're all done guessing who wrote which note of thanks, we clean up. Oops! The bowl has been left in the yard. What happens as a mouse, an owl, some otters, geese, a fox, some raccoons, and even children encounter it all year long? More importantly, what will happen on Thanksgiving Day when nobody can find the special bowl for thankful notes?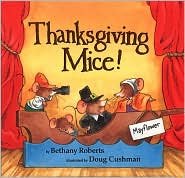 Thanksgiving Mice! by Bethany Robers
The mice are hurrying, preparing for a Thanksgiving play. They invite friends and share the story of The Pilgrimage and The First Thanksgiving. Will they be able to celebrate a Thanksgiving of their own?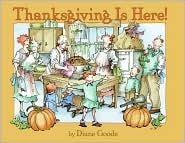 Thanksgiving Is Here! by Diane Goode
Thanksgiving is here and it's a family affair. Relatives arrive at Grandma's, furniture is moved, tables are brought together and set, food is cooked, and dinner is served. Everyone rests before dessert, and before you know it, the family gathering is over. This traditional family gathering is relatable to those that do the same!
The Perfect Thanksgiving by Eileen Spinelli
Comparing and contrasting her family's Thanksgiving with the Archer Family's Thanksgiving, Little Girl showcases the differences in style, presentation, behavior, and space. Before the day is over, will she realize what's truly important about this holiday?
Turkey Surprise by Peggy Archer, illustrated by Thor Wickstrom
Two pilgrim brothers set out to kill and fetch the family turkey for Thanksgiving, but what happens when Little Pilgrim takes pity on the feathery friend? Can he keep his older brother distracted long enough that the turkey escapes? And, what will they bring home to share with their parents?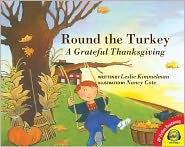 Round the Turkey: A Grateful Thanksgiving by Leslie Kimmelman
Everyone on the family tree gathers around the Thanksgiving table. Each takes a turn sharing what they are grateful for. Everyone finds a way to give thanks and readers should have some good ideas of what they say thanks for too! (Susan's speech is my favorite!)
Hope you enjoyed this list of books!  I also have lists of pumpkin books, spider books, and Veterans' Day books on Learn Like A Mom! For more Thanksgiving fun here on Mom Endeavors, just click the Cornucopia of Creativity button below!

What are you giving thanks for this Thanksgiving?
As a mother of two and a for­mer early child­hood edu­ca­tor, Anna com­bines her pas­sion for teach­ing and love of par­ent­ing in every day life. Over at Learn Like A Mom, she's embrac­ing life's teach­able moments by shar­ing learn­ing oppor­tu­ni­ties found in var­i­ous par­ent­ing and edu­ca­tional envi­ron­ments. You can find more from Learn Like A Mom on Face­book, Twit­ter, Pin­ter­est, Google+, and Insta­gram.
Pin It