Need an easy & inexpensive craft idea to do with the kids? Learn how to make these fun paper flower rings!

You know we love movies and fun crafts around here. So, we're thrilled to partner with Paramount Home Entertainment for this sponsored post, creating these easy paper flower rings for Mother's Day – inspired by SONIC THE HEDGEHOG!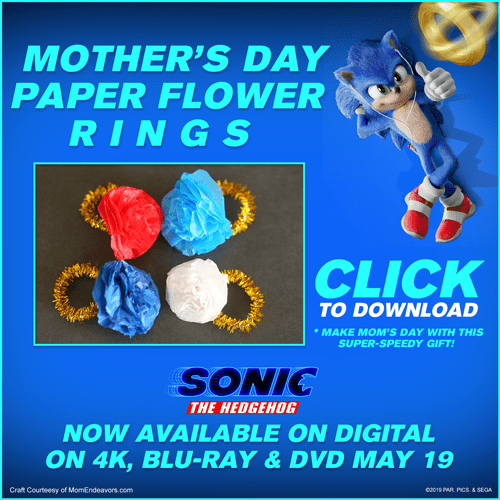 In the movie, Baby Sonic gave Longclaw a flower to show her how much he loved her. Awwww! So, this little craft combines the golden rings from Sonic and the flower idea for a simple & sweet little craft that's easy enough for kids to make! Or, you could even make it a fun movie night craft!
SONIC THE HEDGEHOG is now available for digital purchase and arrives on 4K Ultra HD, Blu-ray, DVD and for rental on demand or disc May 19 from Paramount Home Entertainment. So, you can watch the movie and enjoy a fun little craft to go with. 
How to Make Paper Flower Rings
The beauty of this craft (other than being cute) is that it is SO easy and inexpensive to make. You only need a few supplies and you may already have them on hand!
Supplies:
tissue paper (shades of blue, white, and red for Sonic colors )
gold pipe cleaners
scissors
Optional: Pencil for drawing circles
Instructions:
Fold each sheet of tissue paper so that there will be between 8-12 layers of tissue once cut.
Cut out a 1" to 2" circle (through all layers). You draw a circle with a pencil first or just free-cut a circle. It doesn't need to be perfect.
Once cut, slightly fold the layer of circles in half to cut two small slits through the center of the tissue paper circles. The two slits should be about a ¼" apart.
Insert one end of your pipe cleaner into one slit and loop it down into the second slit. Twist the remaining part of the pipe cleaner onto the rest of itself just underneath the tissue paper.
It should already resemble the beginnings of a flower now (with petals and a gold "stem"). But you'll need to fluff the tissue to really look like a flower.
Start by scrunching up the innermost layer of tissue paper (the one where you looped the stem through). Continue scrunching and turning each layer individually until the flower is complete. You'll end up with a tissue paper flower that resembles a carnation.
Once you have your flower, wrap the pipe cleaner around your finger to create a ring shape. Cut off the excess (depending on the size of your fingers, you should be able to make 2-3 rings from one standard pipe cleaner). And twist the end around itself at the base of the flower to create the ring.
Repeat for as many flower rings you'd like to make!
These really are SO easy to make! So, enjoy the fun craft and the movie!
About Sonic the Hedgehog
Get ready for epic fun and super-sonic action when everyone's favorite hedgehog races home in the blockbuster hit SONIC THE HEDGEHOG, debuting early for purchase on Digital March 31, 2020 from Paramount Home Entertainment.  The film will be available on 4K Ultra HD, Blu-ray, DVD and for rental on demand or disc May 19.
 
The Digital*, 4K Ultra HD, and Blu-ray releases are packed with sensational bonus features: See Sonic the Hedgehog's next adventure around the world in a new animation; get more of Sonic in deleted scenes; laugh at the hilarious blooper reel; explore the origins of the legendary blue hedgehog; see Jim Carrey bring Dr. Robotnik to life; watch along with awesome commentary by director Jeff Fowler and the voice of Sonic, Ben Schwartz; and more!  Plus, for a limited time, the 4K Ultra HD and Blu-ray Combo packs will include a printed, Limited Edition comic book featuring an adventure with Sonic and The Donut Lord.
 
Powered with incredible speed, Sonic the Hedgehog (voiced by Ben Schwartz), aka The Blue Blur, embraces his new home on Earth. That is, until he accidentally knocks out the power grid and sparks the attention of super-uncool evil genius Dr. Robotnik (Jim Carrey). Now it's super-villain vs. super-sonic in an all-out race across the globe to stop Robotnik from using his unique power for world domination. Sonic teams up with The Donut Lord, aka Sheriff Tom Wachowski (James Marsden), to save the planet in this action-packed hit that's fun for the whole family.