A couple of weeks ago I shared with you all about Shutterfly's new Family Photo Site with a sweet $100 Shutterfly giveaway! Well, we have a winner! Lucky comment #87, Melanie, has been emailed! 🙂 But, you still have lots of chances to win as a handful of my blogging friends have $50 giveaways going on now (links at the bottom of the post).
I had the pleasure of hosting a Shutterfly #cardworthy event for those ladies at Phoenix City Grille last week! It was a wonderful night! How can you go wrong when photos, food, and friends are involved?! Here's our #cardworthy group shot: 
Phoenix City Grille had a fabulous private space for us, which was wonderful! We could browse through our Shutterfly holiday catalogs, check out card samples, use our phones, and snap photos to our hearts' content! Not to mention nosh on some of the best food I've had in a while! SO good!
Nothing like sampling delicious food while talking all things photos (& checking out some adorable holiday cards) with friends! I even brought our favorite Shutterfly Christmas card to date to show with the samples! 😉
Have you ordered your holiday cards yet? We haven't. But, luckily there is still time and there are GREAT options at Shutterfly!
This was one of my favorites! I love the chalkboard & washi tape look it has going on! Super fun! 🙂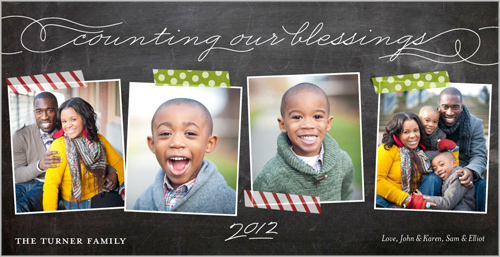 According to Shutterfly's 2012 Holiday card tips and trends, 6×8 cards are super "in" this year! They are Shutterfly's largest size card, letting you showcase your family in a BIG way– complete with room to add your photos on the back too!
So, definitely lots of fun options! You can shop now, but first… there are a BUNCH of ways to enter to WIN some money to Shutterfly, perfect for your holiday cards (and photo gift needs). First up…
Check out the Card­Wor­thy Photo Con­test on the Shut­ter­fly Face­book Page (run­ning from Novem­ber 12 – Decem­ber 9). Once there, you can upload a photo into one of their 2012 hol­i­day cards. This con­test will run for four weeks with a new theme every week! So, hurry over to enter the con­test here: http://on.fb.me/SXfDVI. 
Plus, all of these lovely ladies have $50 Shutterfly gift cards up for grabs! So, hurry on over because their giveaways all end sometime this week!
For more great ideas, discounts, and sweepstakes from Shuttefly, be sure to follow them here:
Disclaimer: I am part of the Mom It Forward blogger network. Mom It Forward and Shutterfly partnered in support of this campaign. Shutterfly compensated me for participation in this campaign. However, all thoughts and opinions are my own. I've been using Shutterfly since LONG before I was blogging and REALLY love their products!!