Today, I am thankful. Thankful to have a wonderful mom and two grandmas still with me; thankful for my mother-in-law and two "grandmas-in-law" that helped shape the wonderful man that my husband is; and especially thankful for my two little guys who've given me my greatest joys and biggest challenges–the role of "Mom".
I have friends struggling with infertility and another old friend who recently lost her precious daughter at 24 weeks. Today, that friend has a request that I wanted to share with you:
"If you are blessed enough to have a child or children of your own, would you do something for me? Do something that I want more than anything in the world?
Would you please
Hug them tightly? Remember what the hugs feel like.
Play with them? Remember their giggles and engrave their smiles in your hearts.
Cuddle with them? Remember how they seem to fit perfectly in your arms, like a missing piece from a puzzle.
Be kind to them? Don't be the people in the grocery store that make me cringe when they're screaming at their kids.
Tell them how much they were wanted and prayed for?
Send up prayers of thanks that:

Your child is with you.
You know the sound of your child's voice.
You know the color of her eyes.
You are not looked at awkwardly by others on Mother's Day.
You know how to answer "How many children do you have?"
You know what it's like to watch your child sleeping peacefully, with a beating heart.
You are awoken in the middle of the night by cries and whines and screams.
Be thankful for these signs of life….
So, moms–be thankful for your little ones. Even when you think you are going to go crazy with tantrums and dirty diapers and no quietness in your life. Even when they argue and roll their eyes at you and talk back.
Just know that there are thousands of us who would trade you in a heartbeat."

So, today, I am thankful. Thankful for my babies and thankful for all the mothers in my life. I celebrate you all!
If you enjoy celebrating motherhood, you should check the "I am more than just…" site. The site is inspiring, with beautiful photos & stories, and this month's theme is motherhood. I'm excited to be featured at the end of the month!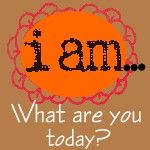 Also, Kami from No Biggie has been doing a wonderful series on "5 things I love about being a mom". Head on over to read a few (of the many) things I love about being a mom!!
To all the mamas out there (no matter where you are in your motherhood journey), I hope you had a very happy Mother's Day!