Yum! Today's Cornucopia of Creativity post would be such a great treat for Thanksgiving morning breakfast! Take it away, Andrea!
************
Hello, everyone! My name is Andrea and I blog over at the Worley House! I'm excited to share with you today some Fall inspired mini donuts! These would be perfect for a brunch, a party or just to be enjoyed at home with your little ones.
A while ago I got this mini donut baking pan from the grocery store. I've had it for a while now, and was just waiting for a good excuse to whip some of these up. During nap time one day I made a batch and sprinkled them with some fun Fall inspired sprinkles.
They are so festive and fun, and my daughter was happy to be my taste tester once she woke up from her nap! These are a cake donut that are baked in the oven. Much more healthy than a fried version.
Here's what you'll need:
1 1/4 c. cake flour
1/3 c. sugar
1 1/4 tsp. baking powder
1/8 tsp. ground nutmeg
3/4 tsp. buttermilk
1 egg, lightly beaten
1 1/2 table spoon butter, melted
Preheat oven to 425 degrees.
In a large mixing bowl blend together flour, sugar, baking powder, nutmeg and salt.  Add buttermilk, egg and butter and stir until just combined. Fill each donut cup 1/2 full. I put all my batter in a Ziploc bag and snipped the end of it and filled my pan. It makes it a lot easier to fill them with less mess.
Bake 4-6 minutes until the tops spring back when touched. Let them cool in the pan.
Next I gathered my sprinkles and frosting. For the frosting I just used some store bought vanilla icing that I melted a bit and put into another Ziploc bag and snipped the end to drizzle across my donuts.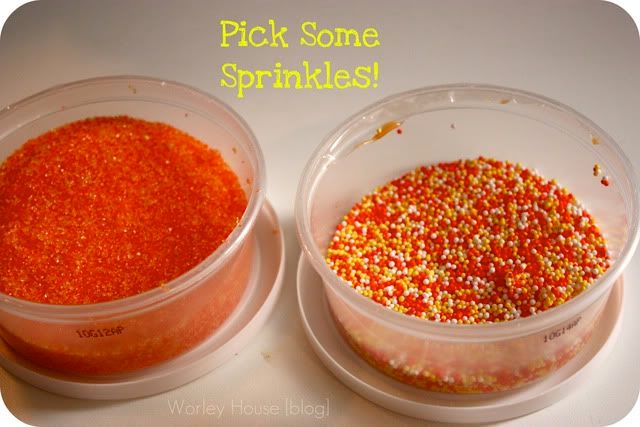 Drizzle frosting across the donuts and then top with sprinkles as many as desired. Then you're done! So cute and simple! You'll wanna eat more than just one!
Thanks Sara for letting me share with your readers today! If you all get a chance stop by the Worley House today and say hello!