Hi Mom Endeavors readers! Contributor Andrea here, and I'm excited to share with you my love for the new BabyBjorn Carrier for all my baby wearing mama friends. I recently had the opportunity to review the BabyBjorn ONE Carrier for me and my lil' guy. I've used a different carrier in the past during traveling & everyday outings and loved the accessibility it gives me. But, my daughter was much lighter at this age than my son is! In fact, the carrier I've been using just wasn't cutting it anymore and was making outings with it rather uncomfortable. So, I was excited to get to try the BabyBjorn ONE out and see how it held up to my almost 20 pound nine month old.

A couple things I noticed right away when I put it on (before I even put the baby in it was all the extra padding it has on the shoulders and around the hips. All of this extra padding is so nice to have once you've got a baby you're carrying around strapped to you. I could tell the difference right away in how comfortable it was compared to the one I'd been using. No more digging into my back and shoulders with this one.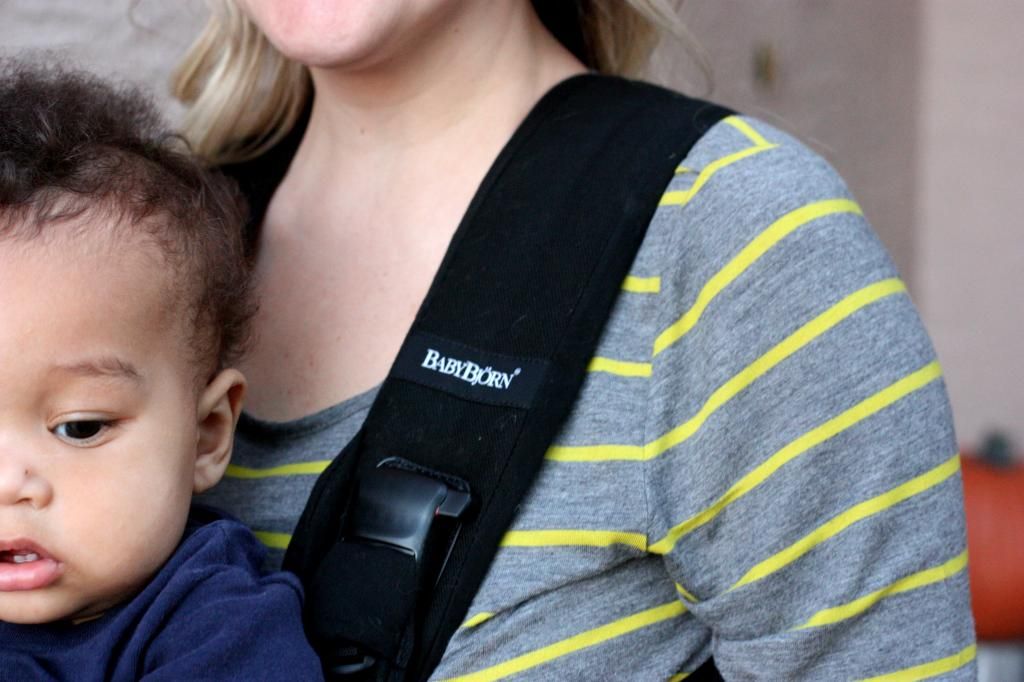 Another feature I love is the belt loops around the hip belt to slip them into so they aren't hanging and flapping all around while you're moving. This is a really nice extra feature. Also this carrier has been developed with pediatricians and the advice of the International Hip Dysplasia Institute to provide the right support for your growing child's head, back and hips.. You can either place the baby outward or inward facing, as well as use this with the baby on your back once they are 12 months of age.
One other really nice addition to this carrier is the extra room under the baby's legs that be added by un-zipping it for when they grow and get longer. Or if your baby is chubby like mine, you won't feel like the carrier is digging into their skin or going to leave any marks since you can un-zip it and make more room for the baby.
Even my husband agreed that the carrier was very comfortable and there was a noticeable difference between the BabyBjorn ONE carrier and the one we've previously used. He loved taking the kiddos for a walk and using it. We've used this carrier on several occasions on walks and for errands, I can't wait to test this out in the airport during our upcoming holiday travels.

We love our new carrier! Baby approved!
Giveaway:
One lucky reader will win their very own BabyBjorn ONE carrier, for use for newborns to 3 years of age! Sweet!!
US Residents, 18+ years can enter using the Rafflecopter form below. Please allow up to 6-8 weeks for prize delivery!
Good luck!
For more from BabyBjorn, you can follow along here: TWITTER //  FACEBOOK // PINTEREST
Disclosure: This post is part of a sponsored campaign with BabyCenter and BabyBjorn. I received a free sample of the product for the purpose of this review.
Andrea Worley is the author behind the Worley House blog. A lifestyle blog where she shares about her passion for motherhood, family, faith and creativity. She lives in Phoenix, Arizona with her husband Orion and two children Ava and Zane. Visit her blog here and connect with Andrea here: