This is a Spon­sored post writ­ten by me on behalf of Car­ole P. Roman for SocialSpark. All opin­ions are 100% mine.
With the birth­day of a very famous children's book author (Dr. Seuss) hap­pen­ing this week, it's the per­fect time to cel­e­brate read­ing and fun books. If you have lit­tle pirate fans at home, then you should def­i­nitely check out the Cap­tain No Beard sto­ries! Geared toward boys and girls ages 3–8, they are per­fect for my boys!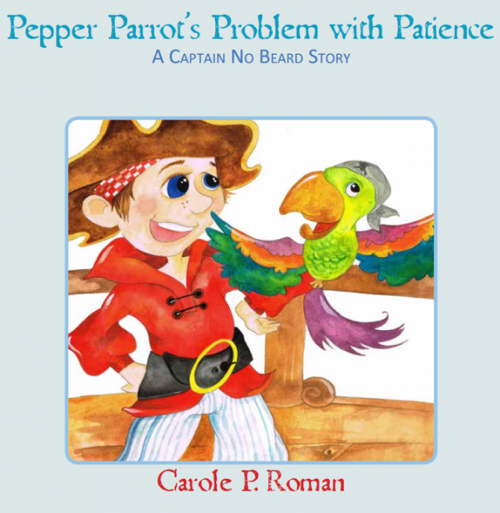 Pep­per Par­rot is the newest mem­ber of the Cap­tain No Beard and the Fly­ing Dragon crew! Read­ers are intro­duced to this new char­ac­ter in Car­ole P. Roman's new book, Pep­per Parrot's Prob­lem with Patience: A Cap­tain No Beard Story. Here's a brief story overview:
Cap­tain No Beard and the ani­mal crew of the Fly­ing Dragon pirate ship are excited to wel­come another crewmem­ber today. But the day may be a dis­as­ter when Pep­per Par­rot becomes frus­trated while attempt­ing the drills with the oth­ers. Not know­ing her right from her left, she feels anx­ious and has a tem­per tantrum when she can­not keep up with the crew. Hal­lie, the ship's first mate, befriends Pep­per and offers to patiently teach her the dif­fer­ence between each side. By learn­ing a trick that will help her remem­ber which side is the left and which is the right, Pep­per Parrot's dis­ap­point­ment and sad­ness dis­ap­pear. Her self-esteem rises and she becomes con­fi­dent in her abil­i­ties and her future with the crew on the Fly­ing Dragon. Her newly found self-respect brings an impor­tant mes­sage to her, her crew­mates, and each of us as we face chal­lenges.
I love books with a good mes­sage for the boys! Teach­ing them con­cepts of being a good friend, encour­age­ment, and team­work with fun ani­mals and a pirate theme is per­fect for our house! They are SUPER into pirates right now. So, these are books that I'm excited about hav­ing for them and I can't wait to see what story in next in this series!
What children's books have YOU been read­ing lately?