A cou­ple of weeks ago I shared with you all about Shutterfly's new Fam­ily Photo Site with a sweet $100 Shut­ter­fly give­away! Well, we have a win­ner! Lucky com­ment #87, Melanie, has been emailed!
But, you still have lots of chances to win as a hand­ful of my blog­ging friends have $50 give­aways going on now (links at the bot­tom of the post).
I had the plea­sure of host­ing a Shut­ter­fly #card­wor­thy event for those ladies at Phoenix City Grille last week! It was a won­der­ful night! How can you go wrong when pho­tos, food, and friends are involved?! Here's our #card­wor­thy group shot: 
Phoenix City Grille had a fab­u­lous pri­vate space for us, which was won­der­ful! We could browse through our Shut­ter­fly hol­i­day cat­a­logs, check out card sam­ples, use our phones, and snap pho­tos to our hearts' con­tent! Not to men­tion nosh on some of the best food I've had in a while! SO good!
Noth­ing like sam­pling deli­cious food while talk­ing all things pho­tos (& check­ing out some adorable hol­i­day cards) with friends! I even brought our favorite Shut­ter­fly Christ­mas card to date to show with the sam­ples!
Have you ordered your hol­i­day cards yet? We haven't. But, luck­ily there is still time and there are GREAT options at Shut­ter­fly!
This was one of my favorites! I love the chalk­board & washi tape look it has going on! Super fun!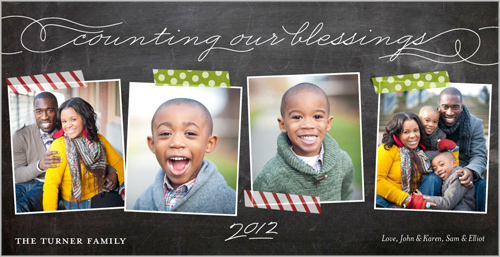 Accord­ing to Shutterfly's 2012 Hol­i­day card tips and trends, 6x8 cards are super "in" this year! They are Shutterfly's largest size card, let­ting you show­case your fam­ily in a BIG way– com­plete with room to add your pho­tos on the back too!
So, def­i­nitely lots of fun options! You can shop now, but first… there are a BUNCH of ways to enter to WIN some money to Shut­ter­fly, per­fect for your hol­i­day cards (and photo gift needs). First up…
Check out the Card­Wor­thy Photo Con­test on the Shut­ter­fly Face­book Page (run­ning from Novem­ber 12 – Decem­ber 9). Once there, you can upload a photo into one of their 2012 hol­i­day cards. This con­test will run for four weeks with a new theme every week! So, hurry over to enter the con­test here: http://on.fb.me/SXfDVI. 
Plus, all of these lovely ladies have $50 Shut­ter­fly gift cards up for grabs! So, hurry on over because their give­aways all end some­time this week!
For more great ideas, dis­counts, and sweep­stakes from Shut­te­fly, be sure to fol­low them here:
Dis­claimer: I am part of the Mom It For­ward blog­ger net­work. Mom It For­ward and Shut­ter­fly part­nered in sup­port of this cam­paign. Shut­ter­fly com­pen­sated me for par­tic­i­pa­tion in this cam­paign. How­ever, all thoughts and opin­ions are my own. I've been using Shut­ter­fly since LONG before I was blog­ging and REALLY love their prod­ucts!!